The newly published NanoFabNet Implementation Roadmap for International Cooperation emphasises the NanoFabNet's efforts to strengthen the existing linkages between stakeholders in sustainable nanofabrication for the sake of enhancing international cooperation.
The Roadmap identifies the dimensions concerning sustainability in nanofabrication ("raising awareness of sustainability", "compliance with regulation and legislation", "implementation of sustainability indicators", and "building support and engagement about sustainability criteria") and recommends specific actions that should be enacted to address those issues.
It designates four goals for its international cooperation:
to establish a strong integration of the EU community;
to establish a strong connection with other stakeholders to facilitate building a global community focused on sustainable nanotechnology and nanofabrication;
to develop the capacity of NanoFabNet Hub through the exchange of know-how at an international level; and
to monitor mutual understandings of challenges in the field of sustainable nanofabrication and nanotechnology.
Specific actions have been proposed to engage a wider, international community. The proposed actions are also focused on improving the transfer of knowledge and collaboration between stakeholders through the NanoFabNet digital platform. International cooperation is an important element in building stakeholder awareness in the field of sustainable nanofabrication. It can foster the development of the industry, promote good practices in research and industry, and facilitate international contacts for the NanoFabNet community.
Sustainable Nanofabrication
The concept of sustainable nanofabrication and what exactly it means to the NanoFabNet Project is widely explained in the NanoFabNet's 'Report on the Concepts and Disciplines of Sustainability in Nanotechnology & Nanofabrication, wherein the following concepts were identified as the three main pillars of sustainability in nanotechnology and nanofabrication: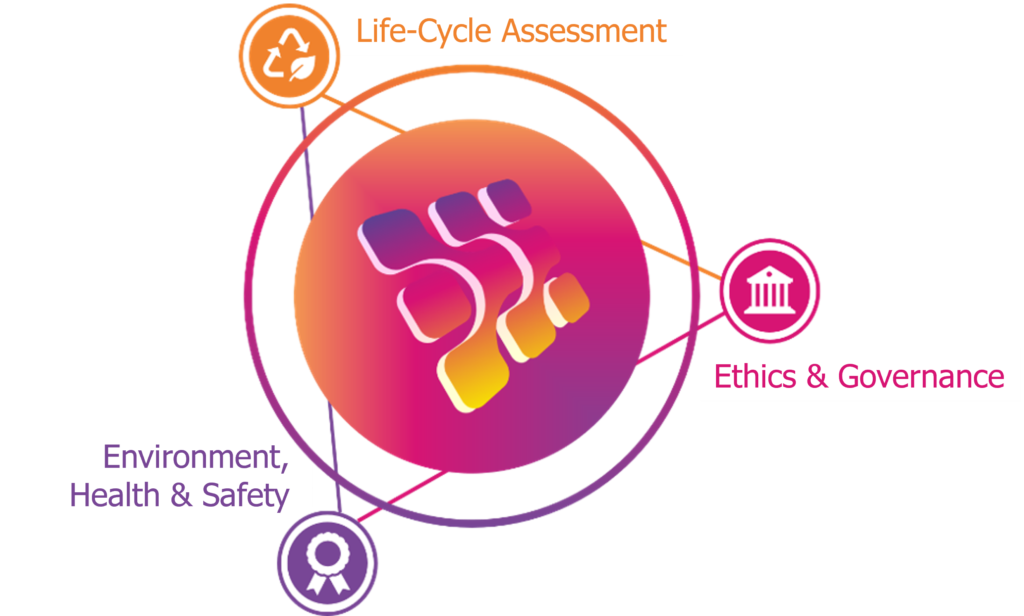 a) Environment, Health, & Safety issues in Nanotechnology and Nanofabrication;
b) Life Cycle Sustainability Issues in Nanotechnology and Nanofabrication; and
c) Ethics & Governance Issues in Nanotechnology and Nanofabrication.
NanoFabNet – International Cooperation in sustainable Nanofabrication
International cooperation has a significant role in the modern world. It has evolved largely since the acceleration of globalisation processes after World War II and nowadays is even more accessible thanks to remote networking tools and platforms, whose access rates have increased largely due to the COVID-19 pandemic that affected more traditional tools, such as in-person meetings, networking sessions, conferences, and industrial trade fairs.
The NanoFabNet was created to be a stakeholder-driven initiative; feedback obtained from stakeholders is, therefore, a very important factor in the creation of the NanoFabNet Hub and its international cooperation strategy. The consortium partners have pointed out several different possibilities of how international relations can be shaped.
Follow this link to find out more about the NanoFabNet, or download the NanoFabNet Implementation Roadmap for International Cooperation.