'How can the taxonomy for nanofabrication processes be harmonised across the borders of countries and disciplines, as well as language- and education-barriers?'
… this is the question tackled by the NanoFabNet team in its newly published 'NanoFabNet Strategy & Implementation Roadmap on Infrastructures, Knowledge & Skills Development'.
Building on the NanoFabNet report 'Nanofabrication Competence Map: Infrastructures, Knowledge & Skills – Proposal for a new Nanofabrication Taxonomy', the new NanoFabNet report provides a roadmap for the implementation of the proposed taxonomy, in order to support infrastructures, knowledge and skills developments within the wider nanofabrication community: First a limited number of infrastructures organised under the umbrella of pan-European academic research infrastructure for nanofabrication – EuroNanoLab – is identified, and the proposal is stress-tested through implementation within the EuroNanoLab facilities. During this step, the proposed taxonomy may be fine-tuned and adjusted.
The proposed NanoFabNet taxonomy covers ca. 80-90% of nanofabrication tools available in studied nanofabrication facilities, and is constructed in a flexible way, so that new categories can easily be added, if deemed necessary; it is thus only a starting point, which needs to be adopted and extended by a broad nanofabrication community to reach its full potential.
The further expansion and the sustainability of the NanoFabNet taxonomy concept will be ensured via following actions:
Promotion of the NanoFabNet taxonomy in a broad nanofabrication community,
Building an online tool for managing equipment in small labs/cleanrooms,
Entering of the taxonomy into education and training processes, and
Stepping into the process of creation of new international standards.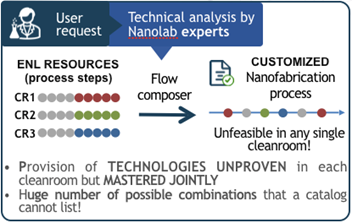 Follow these links to download the new report 'NanoFabNet Strategy & Implementation Roadmap on Infrastructures, Knowledge & Skills Development', or to find out more about the NanoFabNet and its newly launched NanoFabNet Hub.
Get involved in the NanoFabNet Hub today.
---