Preparing to tackle the challenge of developing safe and sustainable nanomaterials-based solutions to current global challenges including clean energy, sustainable food production and water security requires access to high quality data and appropriate analysis and modelling approaches, a group of leading nanosafety researchers (incl. AcumenIST Dr Steffi Friedrichs for @NanoFabNet1) has taken the first step of preparation: in a new research paper entitled 'From principles to reality. FAIR implementation in the nanosafety community', the authors analyse and discuss principles of Findability, Accessibility, Interoperability and Reusability (FAIR) provide a roadmap to enhanced data sharing and re-use, but require consensus within the nanosafety community on metadata, ontologies and persistent identifiers (among other things) and guidance to support implementation and achieve machine-readability.
The paper highlights the main focus of the AdvancedNano GO FAIR Implementation Network in supporting the nanosafety community with implementation of FAIR to maximize data-driven safe and sustainable application of nano- and advanced materials.
The AdvancedNano IN aims to raise awareness, propose incentives, and support education of researchers, regulators and industry. In addition, it aims at providing guiding principles to bring about cultural change and allow for the development of data standards and governance strategies within nanoscience. The AdvancedNano IN Manifesto provides an overview of 10 initial implementation principles for creating a FAIR culture within the field.

[NanoToday (51) (2023) 101923, https://doi.org/10.1016/j.nantod.2023.101923]
The AdvancedNano IN action plan builds on the data governance and policy strategies outlined by the European Commission. The AdvancedNano IN will primarily support three main action categories (see Figure 1):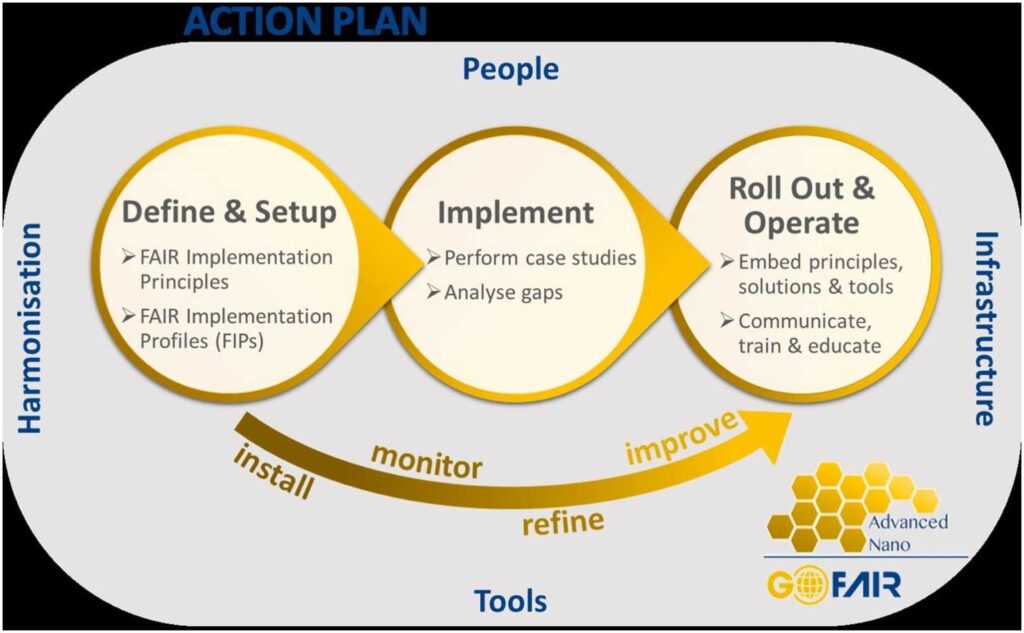 Definition and set-up, where domain-specific descriptions of FAIR implementation principles are developed under the aim of creating general and specific FAIR Implementation Profiles (FIPs), which specify data and software technically fit for the nanosafety community and its down-stream research and innovation fields. This first action category also covers endeavors to install monitoring strategies to measure the progress of FAIRification within the field and its continuous refinement;
Implementation, where new solutions, methods and tools are employed and endorsed as FAIR Enabling Resources (FERs) within and beyond the nanosafety community e.g., through the development of case studies for monitoring-, refinement- and improvement-solutions. This second action category also involves identification of gaps in category 1-related solutions; and finally,
Roll-out and operation, where principles, solutions and tools are embedded in practice through several widespread communication, training and education initiatives. In parallel, the third action category includes iterative monitoring, refinement and improvement work for generating feedback to action categories 1 and 2.
The AdvancedNano IN will raise awareness of the value of reusable NMs (safety) data, highlighting the far-reaching impact within the nanosafety community and beyond, and advocating much-needed transparency of safety information.
Overall, the AdvancedNano IN aims to drive the necessary cultural change and bridge the gap between available tools/infrastructures and stakeholders to embed FAIR workflows into everyday research practice in the nanosafety community.