A new report by the NanoFabNet finds that – even if a lot of work had been done at an international level during the last 30 years in the nanofabrication field – a lot of challenges were still to be met. The authors found that the challenges belonged to two main categories:
the implementation of new developments at the scientific level whether it be in processes, infrastructure platforms and standardisation (first of all on the taxonomy and in nano-specific characterisation and material/processes), and
the implementation of a broader approach at the society level, including needs on skills/education for this new field, involvement of decision-makers to increase funding in the sustainable nanofabrication and international collaboration network to take up these challenges (e.g. dissemination of information, results, standards, case studies).
The study that led to the new report on 'Common Challenges & Opportunities in sustainable Nanofabrication' aimed to identify the main challenges and opportunities of sustainable nanofabrication, by engaging with the stakeholders of the newly formed NanoFabNet – international Hub for sustainable industrial-scale Nanofabrication through online survey and two focused workshops. In order to create a level playing field, the relevant contribution of the nanofabrication and sustainability stakeholders during the two NanoFabNet Development Workshops (held in March 2020 and January 2021, respectively) have been added where appropriate. The definitions are first presented to highlight the underlying challenges of sustainability in nanofabrication; then a state of the art is proposed to present the different issues involved in sustainable nanofabrication (standardisation, life cycle sustainability and risk assessment, education/skills and infrastructures).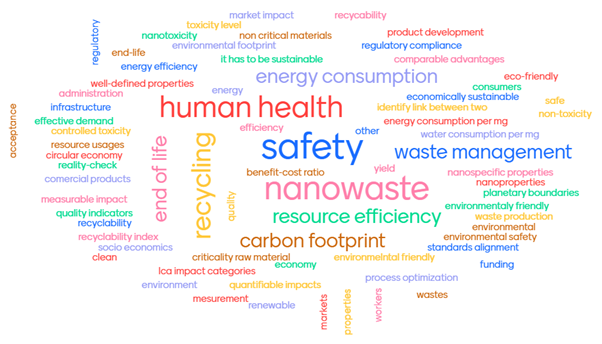 Within the NanoFabNet, the topic of sustainability is considered as a global concept addressing the following categories:
Environmental, Health and Safety issues
Life Cycle Sustainability issues
Ethics and Governance issues
To go further into detail for a definition of sustainable nanofabrication, this work package has generated a compilation on the existing concepts and disciplines of sustainability in nanotechnology and nanofabrication (Report on the Concepts & Disciplines of Sustainability in Nanotechnology & Nanofabrication).
As co-creation and stakeholder involvement from day one are fundamental parts of the NanoFabNet Project, the Project Team identified relevant stakeholders / stakeholder groups linked to sustainable nanofabrication and invited them to ongoing Project activities such as the workshops or surveys. These stakeholder groups encompass representatives from industry (i.e. both SMEs and large industry), academia, research organisations, regulatory bodies, national metrology institutes, standardisation bodies, and NGOs (Non-Governmental Organisation).
The main issues of sustainable nanofabrication highlighted by the stakeholders during the 1st NanoFabNet Development Workshop (DW), by ranking categories on their importance on this subject, are presented in Figure 2. The following sub-parts detail the categories considered to be of high importance: i.e. metrology/characterisation in association with the production processes, sustainability, training and standardisation. In addition, a point on infrastructures is presented.
The report concluded that NanoFabNet stakeholders wanted the NanoFabNet Hub to become a bridge between all actors of sustainable nanofabrication:
to be informed of the new development of process, characterisation and standardisation linked to sustainable nanofabrication;
to facilitate access to nano-characterisation and nanofabrication infrastructure;
to be trained and be supported in their evolution to reach sustainable nanofabrication;
to identify the needs of industry, governmental agencies, and non-governmental organisation; and
to foster and support collaborations between characterisation experts, standardisation actors and users.
Stakeholders want to be kept informed about currently running / close-to-be finished EU projects and updated on recent developments in sustainable nanofabrication by literature, conferences & workshops, social media (such as LinkedIn). Concerning ethics, they are mainly in favour of a discovery and use of the different tools available (gathered in a database) and a participation in multi-actor reflection sessions.